Changing our focus from the launch of our upgraded website to the
upcoming conference for Clinical Anatomy, we notice there seems to be
an increased interest in the study of the Head and Neck; scientific articles about
diseases of the head and neck, university courses covering the intricate anatomy of this
part of the body, advanced dentistry as an emerging discipline, and new hospital departments
dedicated to treating injury and disease of the face, head and neck. So much can be learned from
careful study of cranial, facial and cervical bones: from shape and structures of individual bones and how they
articulate, to their specific function, and evidence of their dysfunction when disease or pathology deforms the bone.
We offer a wide range of products and specimens that may be of use in the study of the gross anatomy of the head and neck, in the detailed particulars of individual bones, and of pathology and trauma to the head and neck region. Please check out our new Head & Neck category under the Human Anatomy menu online.
Our Disarticulated Human Medical Study Skull BC-191-D consists of individual bones and teeth, and comes with a protective carrying case, 2 charts and "Bristle through bone" poster. Care was taken to preserve minute surface detail and the appearance and texture of real bone. All Individual bones also available separately. Sagittal Cut Half Skull BC-267-H comes in natural finish or in colored sutured pieces, both available with or without a brain. The EZ Skull is an enjoyable challenge -- assembling the puzzle that the human skull can be. Available in natural EZ-001 or color coded EZ-002
To complement our life size Set of 6 Human Ossicles KO-234-SET and to more easily see their minute and detailed structures, we developed Bone Clones® 14 to 1 overscale Set of 6 Human Ossicles KO-236-SET-OP using high resolution CT scans and 3d printing technology. Below is a photograph of the vascular system that comes with the set.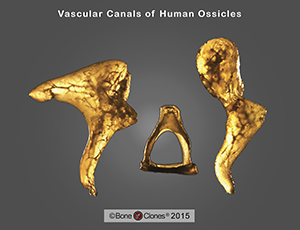 We hear from many of our artist friends how useful Bone Clones® are for their anatomy studies. Since ancient times artists and scientists have studied human and animal osteological anatomy to better understand the underlying scaffolding that supports the body. Whether drawing details of an individual skull or bone, or analyzing the broader relationships and proportions of bones to each other and to the whole organism, a hands-on study of bones can spark delight and exploration in students of all ages and disciplines.
Plus, we think they're beautiful.