November 2015 Newsletter
We welcome fall, enjoying the cooler weather, and beginning to think about the upcoming holidays just around the corner. We hope you have a wonderful month, and that you will visit us often.
With the National Association of Biology Teachers conference upcoming, we wanted to feature material geared toward teaching human and animal biological structure and introductory forensics.

Our Bone Boxes provide an economical alternative to the purchase of an entire skeleton or a half skeleton for the classroom. Child, Female and Male sets contain long bones, rib, vertebrae, hand and foot, hyoid, clavicle, scapula, sternum plate, innominate, sacrum, coccyx and patella and an exceptionally detailed skull featuring a removable calvarium and spring hinged jaw, and a carrying case. Comprised of Bone Clones® quality reproduction human bones, ideal for teaching introductory anatomy to medical, dental, nursing and undergraduate anatomy students.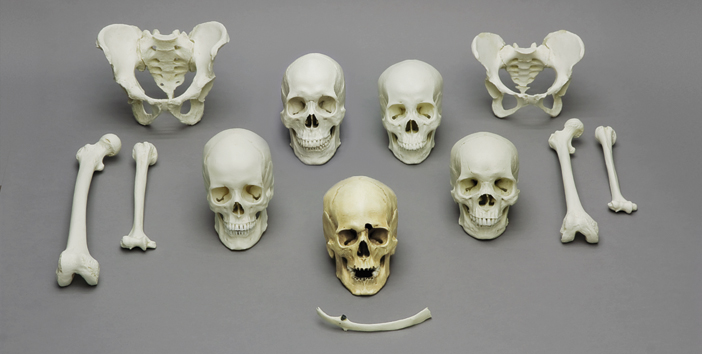 Comp-114 is a 12 piece introductory forensic set applicable to a broad range of concepts in biological anthropology, biomechanics and comparative anatomy. This set features selected specimens from our extensive collection of human material, and includes two of our 4 - piece economy sets Comp-112 and Comp-113, as well as individual skulls for comparison between male and female characteristics and ancestry differences. BC-152 Gunshot Skull and a rib with an embedded bullet provide examples of trauma.
Introducing 4 new products:

Appropriate for classroom study:
| | |
| --- | --- |
| •  | The Mystery Bone Box – a collection of seconds - each box contains a different selection of material well suited for teaching biology and art. Useful for comparative identification, drawing or sculpting, mock excavations, etc. Untooled pieces may require finishing; another skills-learning project for the classroom. |
| •  | Economy Domestic Cat Skull – An addition to our collection of North American animals in economy finish and pricing. |
And introducing 2 new bird skulls for the ornithology specialists:
| | |
| --- | --- |
| •  | Black-footed Albatross Skull – to add to your aquatic animal or ornithological collection. A beautifully detailed skull, including sclerotic rings. |
| •  | Griffon Vulture Skull – a large, old world raptor with a strong hooked beak well equipped to tear flesh from the carrion it scavenges. |
Both casts would be a great addition to any biology, zoology or paleontology program. As always, we invite you to explore our website.