December 2017 Newsletter
Gift Ideas, Featured, and New Products:
Dog Skeleton and Archaeology Set  •  Scale Series  •  8x Lifesize Vampire Bat Skull
Sabertooth Cat Skull (full-size or third-scale)  •  Male Gorilla Head Life Cast  •  Bird/Bat Wings

December - Here again, and so soon!!! We hope you had a great (or at least good) year, and wish you and yours well during the holidays. We have had a full year, with many new products...and a new location which we are enjoying!

For the science nerds on your gift list, we've curated a sampling on our Gift Ideas Page, including: popular specimens scaled up or down, an impressive new Male Gorilla Head Lifecast, our ever-popular Sabertooth Cat Skull in antique or tarpit finish (available full or third scale), an eight times larger than life-sized Vampire Bat at a scale which makes its unique morphology and osteological detail easily seen by the naked eye. (We've also got a Cave Myotis Bat Skull eight times lifesize and an articulated Fruit Bat Wing for your chiropterologist friends).

We've also got some interesting new products: A series of forelimbs, including bird and bat wings (limbs from any of our skeletons may be ordered), a stunning Bullmastiff Dog Skeleton, and a useful Large Dog Archeology Set.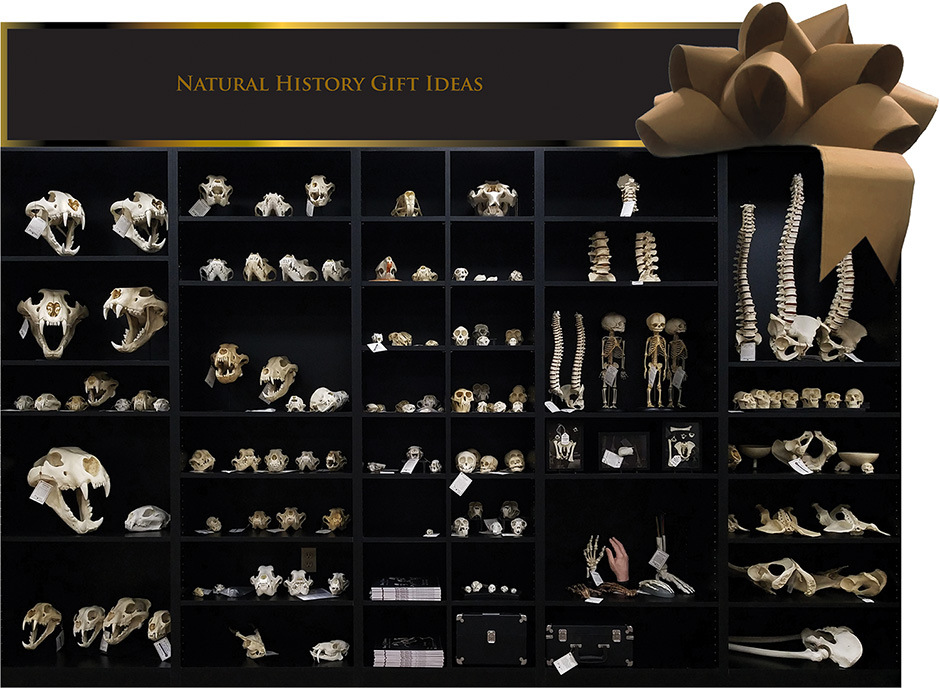 New

Introducing our newest specimen - a large Bullmastiff Dog Skeleton. This impressive breed was developed by English gamekeepers to apprehend poachers.

Dogs and humans have a long alliance which predates written history. Research is rapidly shining new light on the evolution of canids, humans and their interrelationship. Domestic dog bones may frequently be found in burial sites, so we have created a Large Dog Archeology Set to meet the needs in the classroom and the field.

Please take a look at our Large Dog group tab for available products and configurations.


Until next time...
All images and text © 2017 Bone Clones, Inc.
---