Ancestry • Pathology • Trauma
A) Male Asian/Polynesian skull featuring typical rocker jaw, TMJ pathology, and severe dental pathology.

B) Male Aborigine with features of mixed traits (Black, Asian), providing an excellent opportunity to discuss the limitations of race assessment and problems with oversimplification into 3 categories: White, Black, Asian, as well as the differences between overall population data and individual specimen reality.

C) Male European with known age, height and weight at time of death, having morphological cranial features consistent with an individual of European ancestry. From the Maxwell Collection - only available to recognized educational institutions and professionals associated with educational institutions.


• • •
| | |
| --- | --- |
| | |
| D | E |
D) Female cranium with manefestations of syphilis - from the Hrdlicka Paleopathology Collection housed at the San Diego Museum of Man. Paleopathological evidence left by the disease includes lytic (bone resorptive) lesions on the skull vault, evidence of porotic hyperostosis involving both parietals with trace on the frontal bone, numerous lytic bone lesions and stellate scars on the frontal and both parietals. Additionally, tooth loss, alveolar abscessing, resorption, and extensive tartar deposits are present.

E) Male cranium with evidence of perimortem sharp force trauma showing punctures, radiating fractures, and a hinge fracture. Due to the delicate nature of the original specimen, this cranium was 3-D scanned, printed and hand finished. A calvarium cut was added to allow both an external and internal view of the wounds and how they affected both the inner and outer table of the cranium.

The original specimen-collected in Cinco Cerros, Peru circa 1913-1915 by Smithsonian Anthropologist Aleš Hrdlicka for the Panama-California Exposition-from which our cast is made, is from the Hrdlicka Paleopathology Collection housed at the San Diego Museum of Man.


• • •
F) A blunt force trauma set comprising six skull fragments from six individuals. An osteological evaluation report that describes the trauma exhibited on each fragment is available. The fragments show various types of depressed fractures at various stages of healing (from no evidence of healing to well-healed fractures). The injuries were caused by different weapons (from hammers to bullets). In addition, the injuries occurred on different parts of the skull; and since the skulls are presented as fragments, one can also see the inner and outer tables of the skulls around the sites of the injuries.

From the Maxwell Collection - only available to recognized educational institutions and professionals associated with educational institutions.


• • •
| | |
| --- | --- |
| | G) Peruvian Female with Cranial Binding. Thought to be the oldest form of body modification, wrapping or binding, dates back 9,000 years. This particular skull is from Peru, but this practice has occurred in other regions as well. See her companion skull, Peruvian Male with Cranial Binding and Trephination and Male Cranium with Deformation. |
Comparative Sets

PREDATOR / PREY
• Jackrabbit • Bobcat • Coyote •
This economical set features the skulls of 3 common North American mammals, and includes predatory and prey species...and one that could be both. Excellent for use in the classroom to illustrate occular and dental features typical to each category, and what they may indicate about the animal's behavior. Size matters! A predator may become prey under the right circumstances.

DIET
• White-tailed Deer • Bobcat • Raccoon • Elephant Shrew •
Another in our Economy Series*, this set of 4 mammal skulls features a carnivore, an herbavore and an omnivore from North America and an insectivore from Africa. Useful to identify, compare and contrast the characteristics and features that help to place an animal skull into a dietary group, and can also be used to explore a range of concepts including morphological, scientific, and artistic.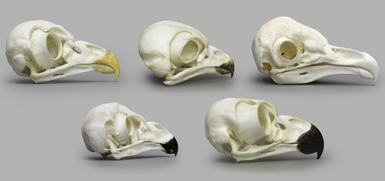 OWL SPECIMENS (not shown to scale)
• Barred • Burrowing • Barn • Short-eared • Great Horned •
We are pleased to offer a selection of owl specimens (skulls, eggs, talons) - 4 North American owls and the wide ranging Barn owl. Owls are typified by forward facing eyes (binocular vision) surrounded by sclerotic rings, acute hearing aided by asymetrical ear openings in some genera, a sharp hooked beak, sharp talons, and feathers adapted to silent flight. Most of these raptors (birds-of-prey) are nocturnal.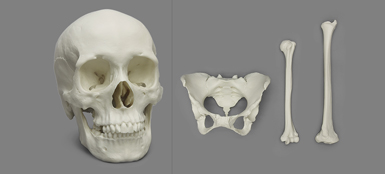 Economy* Human Female African-American
• Skull • Pelvis • Humerus • Tibia •
One of several human comparative sets designed for the discussion and assessment of ancestral affiliation, sexual dimorphism, stature estimation, and the aging process, as well as concepts of human evolution and development.
* About the Bone Clones® Economy Series *
Quality at an economical price
Our goal with this series is to produce affordable replicas so that a new generation of nature enthusiasts and forensic osteologists can learn about animals and anatomy.

Select Bone Clones® cast with the same attention to detail as our standard products, which differ in 3 basic ways:

1 - Tooling: While care is taken to ensure the major features of the skull are preserved, the small details may not be opened, making it possible to produce a more economical replica that is still an excellent teaching aide.

2 - Teeth: the teeth of our Economy Series skulls are created using the same material as the rest of the skull, unlike the teeth in our regular skulls, which are created from a material similar in look and feel to real teeth.

3 - Paint: Our Economy Series products may not be stained, or the stain may be less pronounced than our regular versions.

We have also introduced many of the species' corresponding claws (Click Here). We think these will be a useful addition to the teaching repertoire of any teacher of young students.