All items sold on this website are replicas and are 1:1 scale unless stated otherwise. All Bone Clones® products are made in the USA. No real/natural bone is available on this site.
Product Info
ALSO SEE:
Professors / Educators:
If you would like to build a list to send to your procurement department, or to us at
info@boneclones.com
, use the "Add to Wishlist" button on the right. Once you've finished adding items, go to your wishlist, and use the

button in the upper-right to email it.
Skull Trauma Set of Six Fragments
KOM-804-SET

$216.00

A blunt force trauma set comprising six skull fragments from six individuals. An osteological evaluation report that describes the trauma exhibited on each fragment is available (printable report here: KOM-804-SET-Report). The fragments show various types of depressed fractures at various stages of healing (from no evidence of healing to well-healed fractures). The injuries were caused by different weapons (from hammers to bullets). In addition, the injuries occurred on different parts of the skull; and since the skulls are presented as fragments, one can also see the inner and outer tables of the skulls around the sites of the injuries. We are grateful to the Maxwell Museum for granting us exclusive casting rights to these skull fragments.

Please note that specimens from the Maxwell Collection can only be sold to recognized educational institutions and professionals associated with educational institutions.

More About The Bone Clones® Maxwell Collection Series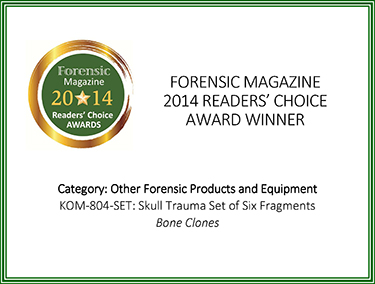 Bone Clones, Inc is pleased to be a recipient of Forensic Magazine's 2014 Readers' Choice Award for our Skull Trauma Set of Six Fragments.
| | | | |
| --- | --- | --- | --- |
| Scientific Name | Catalogue # | Size | Price |
| Homo sapiens | KOM-804-SET | - | $216.00 |