Why Choose Bone Clones®
All items sold on this website are replicas and are 1:1 scale unless stated otherwise. All Bone Clones® products are made in the USA. No real/natural bone is available on this site.
---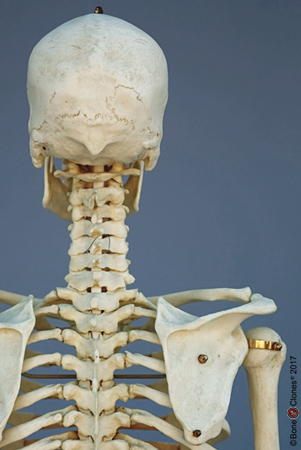 Details from SCM-192-A Human European Male
Casting from originals that present diverse osteological characteristics, each human Bone Clones® skeleton cast is hand-made from start to finish.
We employ rigorous standards when selecting original specimens to ensure the best representation.
We prepare specimens for molding using unique techniques that preserve and ensure maximum retention of fine detail.
Our resin is a custom blend of polyurethane developed in-house to capture and replicate minute detail:
Fossae
Nutrient foramina
Ridges
Crests


Grooves
Rough areas
Sutures
Muscle attachments


Our resin is more durable than real bone.
We hand finish each Bone Clones® replica.
We hand stain and paint many of our replicas, to closely match the color and color patterning of the original.
Expert analysis reports available for most human skeletons, skulls and postcranial items.
Bone Clones, Inc. is the sole distributor of Bone Clones® Human Skeletons.
Bone Clones® are made in the USA.
Bone Clones® Skeletons
Bone Clones, Inc. is the premier osteological replication company specializing in precise casts of modern human skeletons, fossil hominid skeletons, modern animal skeletons and fossil animal skeletons. For over 25 years, Bone Clones® have been the leading osteological reproductions used in museums, universities, medical schools and other educational institutions.
With the exception of fossil hominids, all of our osteological casts are produced from carefully selected original specimens that meet our exacting criteria for a superior reproduction. Each step of the casting process, meticulously followed, contributes to the overall outcome of our high quality products. All casts are made from a custom blended polyurethane resin, formulated to duplicate subtle structures and minute scientific detail of natural and fossilized bone. Once the resin is poured into the mold and solidifies, it is hand tooled and stained to assure a replica "virtually indistinguishable from the original." ™
Bone Clones® casts are ideal teaching aids for the classroom or laboratory. Courses in advanced human and mammalian osteology involve rigorous hands-on training that teach various osteological details of a skeleton. Skeletal details such as fossae, nutrient foramina, ridges, crests, grooves, rough areas, sutures and fissures are evident on the cast skeletons and serve as valuable teaching aids in osteology. Advanced courses taught by physical anthropologists, zoologists, physicians, anatomists, biologists and paleontologists use Bone Clones® to train their students in these fields of study. A majority of our human casts are made from complete associated individuals, not composites. This allows for one to study the skeleton of one individual and notice natural imperfections and individualized characteristics particular to that individual... unique features that exist in all of us.

With dwindling operating budgets, natural bone teaching specimens can be costly and difficult to acquire. Real bones are delicate and easily damaged with frequent handling, thus risk losing important osteological details.

Bone Clones® human skeletons are the closest thing to real bone, with the added benefit of durability. Additionally, if parts are lost they can be easily replaced with exactly the same piece. An exceptional value for the unsurpassed quality achieved, each year more institutions teaching advanced skeletal anatomy are adding Bone Clones to their instructional laboratories.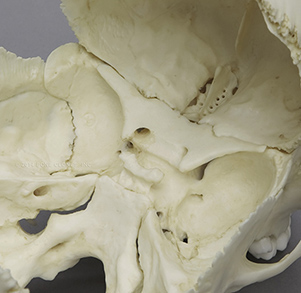 Detail from BC-191-A Medical Study Skull
---