All items sold on this website are replicas and are 1:1 scale unless stated otherwise. All Bone Clones® products are made in the USA. No real/natural bone is available on this site.
KO-178 Group
Product Info
ALSO SEE:
Professors / Educators:
If you would like to build a list to send to your procurement department, or to us at
info@boneclones.com
, use the "Add to Wishlist" button on the right. Once you've finished adding items, go to your wishlist, and use the

button in the upper-right to email it.
Human African-American Female Left Tibia
KO-178-T

$50.00

Left tibia from an adult African-American female.

Below is an image of the available postcranial parts from KO-178.
Click here for individual descriptions.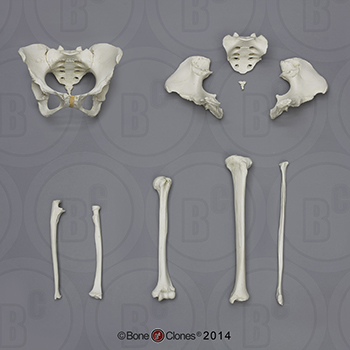 | | | | |
| --- | --- | --- | --- |
| Scientific Name | Catalogue # | Size | Price |
| Homo sapiens | KO-178-T | 14 ½" Length | $50.00 |