All items sold on this website are replicas and are 1:1 scale unless stated otherwise. All Bone Clones® products are made in the USA. No real/natural bone is available on this site.
Product Info
ALSO SEE:
Professors / Educators:
If you would like to build a list to send to your procurement department, or to us at
info@boneclones.com
, use the "Add to Wishlist" button on the right. Once you've finished adding items, go to your wishlist, and use the

button in the upper-right to email it.
Human Ossicles Set of 6 (left and right), 14:1 Scale
KO-236-SET

$174.00

Human ear ossicles are the smallest bones in the body, with the stapes measuring just under 1/2 centimeter in length and the incus and malleus just over 1/2 centimeter in length. The ossicles are difficult to see with the naked eye, thus making it tricky to understand the precise anatomical functions carried out in transferring sound to the inner ear. Using high resolution Micro-CT scans and 3D printing, we have taken the ossicles, enlarged and printed them to approximately 4 inches in length. This allows one to clearly view the delicate anatomy of these important skeletal structures. Included with this set is a remarkable photograph of the internal vessels of the ossicles (see below). These 14:1 scale ossicles will be of great value to clinical anatomists, especially otolaryngologists.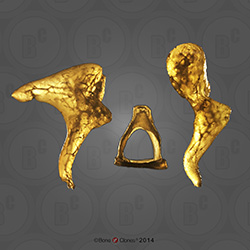 More About How Bone Clones Uses 3D Printing and Scanning
| | | | |
| --- | --- | --- | --- |
| Scientific Name | Catalogue # | Size | Price |
| Homo sapiens | KO-236-SET | Set | $174.00 |